The Longs Peak Scottish Irish Highland Festival
is Proud to Announce that the Famous Author
W. Bruce Cameron will be at the festival.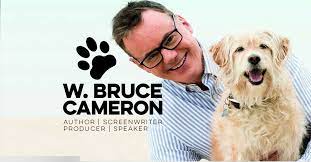 Join us for an intimate book signing at the Highland Bard
238 W. Elkhorn Ave. Estes Park, CO
W. Bruce Cameron
Thursday, September 8, 2022, 4:30-5:30.
A Bruce Cameron book is included in the ticket price.
Bring your camera.
Cocktails and Coffee will be offered for purchase.
Come and try a refreshing drink from Big Lost Meadery several options to choose from.
Enjoy a Scottish Exclusive Coffee from the Highland Coffee Company.
This is a limited entry event so get your tickets before they sell out.
CLICK HERE TO GET YOUR TICKETS FOR THE INTIMATE BOOK SIGNING WITH BRUCE CAMERON
W. Bruce Cameron is the creator of the most beloved brand of family dog entertainment in the world. The #1 New York Times, USA Today and International bestselling novel A Dog's Purpose, has been translated into over 50 languages and continues to top bestseller lists worldwide. The Amblin/Universal film of the book (for which he was a screenwriter along with his wife, Cathryn Michon) is the most successful international live-action dog movie of all time beating previous champ Marley and Me. A popular and hilarious guest in all media, Bruce has appeared on some of the most popular shows on television: Oprah, The Today Show, Good Morning America, CBS This Morning, Fox & Friends, 360 Anderson Cooper, Access Hollywood, and Entertainment Tonight, just to name a few. He's also the author of the book 8 Simple Rules for Dating My Teenage Daughter, which became the People's Choice Award
Winning TV series that still runs in over 33 countries twice a day in International Syndication.
Sony Pictures released the feature film of A Dog's Way Home, and Amblin Universal released A Dog's Purpose 2: A Dog's Journey, both adapted from his international bestselling books, and once again,
Bruce and his wife wrote those scripts.
His new book Lacey's Story is due out on 08/30/2022.
Estes Park International Tattoo
Amazing Line up for the show
September 9 & 10, 2022
7:30 PM Doors open at 6:45 PM
Click here for participating Bands that will be playing at Estes Park International Tattoo
ALL REGISTRATIONS ARE NOW OPEN
Athletic Registrations are open.
Please go to the Athletic page to Register
All Solo Piping and Pipe Band Registerations are open.
Please go to the Piping Competition page to Register
Clan Registration is now open
ONLY A FEW SPOTS LEFT Register today..
Please go to the Clan Page to register
Limited space make sure you get your space register today.